27 Mar

Home is our fortress and our sanctuary. You have to feel good at home, its energies have to be healthy and good for us to feel good there. Take care of your home and clean it with 100% natural cleaners.

The aroma of a clean home makes us feel good and makes our home into a comfortable place to live. Different diffusers, sprays and many house chemicals give such an aroma with a heavy price – your health. That's why it would be reasonable to switch your home perfumes for 100% natural essential oils that won't harm you or your family members health and bring along a refreshing aroma to your household without any harmful consequences.

The safest way to clean homes is to use essential oils. Some of the easiest natural home cleaner recipes could save your health big time and stop you from secretly getting sick. Essential oils and homemade cleaning agents are as efficient as cleaners full of chemicals. In addition, essential oils also share their healing in a spiritual way.

La Tene essential oils are 100% natural and plant-based. A large number of plants are used to get the oils. Therefore these are very strong concentrates and very efficient healers.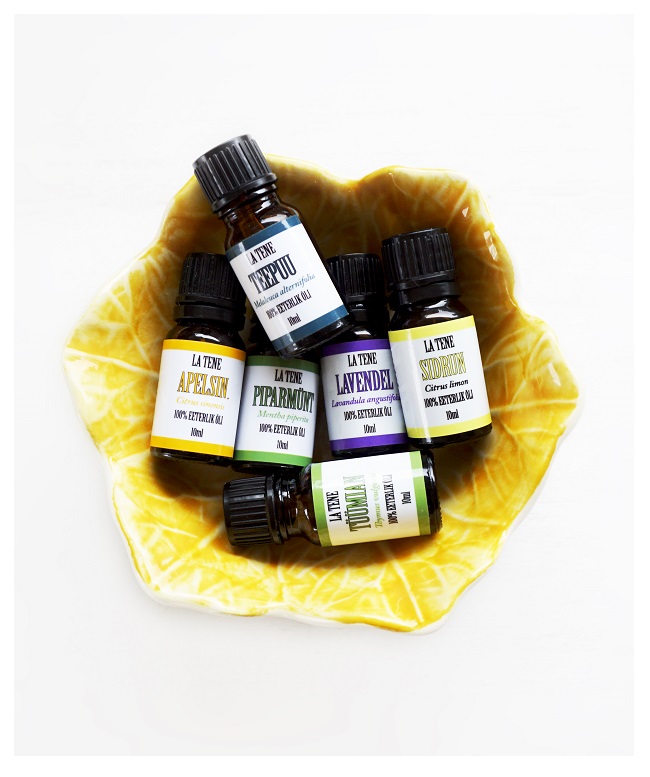 Most essential oils are antibacterial, antifungal and antiviral. Essential oils are wonderful home cleaners and alternatives to home chemicals.

THE 5 MOST IMPORTANT ESSENTIAL OILS FOR HOME CLEANING

1. TEA TREE

Tea tree essential oil is definitely the number 1 essential oil for cleaning. It's antimicrobial, antifungal, antiseptic, antibacterial oil that helps to universally clean the home. Suitable to be used in the kitchen and washroom. Tea tree essential oil has quite an intense odour and it perfectly cleans all the taps and sinks.

2. LAVENDER

Lavender is antitoxic. It's antiseptic, virus killing and antibacterial abilities make this essential oil into a very useful home cleaning agent. Lavender is especially useful for cleaning the bedroom and wash-rooms because it also has relaxing abilities.

3. ORANGE AND THYME

Orange essential oil has a very sweet aroma and definitely adds a very pleasant aroma to the home. Orange essential oil is the best oil to clean your kitchen. It helps to kill bacteria and viruses food has brought to your kitchen. In addition to Orange, also Thyme essential oil can also be used even for cleaning the oven and fridge.

4. LEMON

Lemon essential oil gives your home a refreshing odour, in addition, it cleanses all harmful bacteria that has started to grow in favourable conditions. Using Lemon essential oil not only helps to make the home a cleaner place, but it also helps to improve your mood.

5. PEPPERMINT

Peppermint essential oil improves your own ability to function, lifts the mood, improves it and work functionality. Peppermint stimulates yourself, and, at the same time, cleanses your home from harmful bacteria and fungus. It leaves behind a very good aroma.

In addition to these six best options the following essential oils have also a number of things to offer:

EUCALYPTUS

Eucalyptus essential oil is the perfect antibacterial home cleaner that helps to destroy the toxic substances and bacteria in the home air and that's why it's very good to use it for cleaning the home. When you want to keep your home clean, then add 8-10 drops of Eucalyptus essential oil to a spray bottle full of water. Clean your ceramic tiles, also all the other ceramic and glass surfaces with this mixture of water and oil.

PATCHOULI

Patchouli essential oil is the perfect fungus destroyer. That's why it's useful to use Patchouli essential oil in your home when you know there is mould somewhere in the house. For example, when there are greyish spots on your windowsill, that refer to fungus or there are traces of mould in the bathroom, then you can get rid of it with Patchouli. For that, you need to put a few drops of Patchouli essential oil in a spray bottle full of water and spray this solution to the problematic area once a day. Wash these places with the solution and the mould could go away soon.

IDEAS FOR MAKING HOME CLEANING AGENTS FROM ESSENTIAL OILS:

I recommend using all of these essential oils with the recipes I have written down in this article. When you wish you can change the amounts in the recipes, but I do recommend using only the oils I have brought out as the best ones. For example, Eucalyptus and Patchouli and rest of the essential oils I haven't brought out here, use as pointed out in the instructions with the products.

These mixtures can only be used with ceramic, glass, mirror and stone surfaces. You should definitely not use them on plastic, melamine board or some other weaker materials. It's a cleaning agent you can use in a spray bottle. When you clean your home, spray the cleaner on the dirty surface and then clean the spot with a brush or cloth. To save the nature use cloth napkins instead of paper towels when you can.

WINDOW CLEANER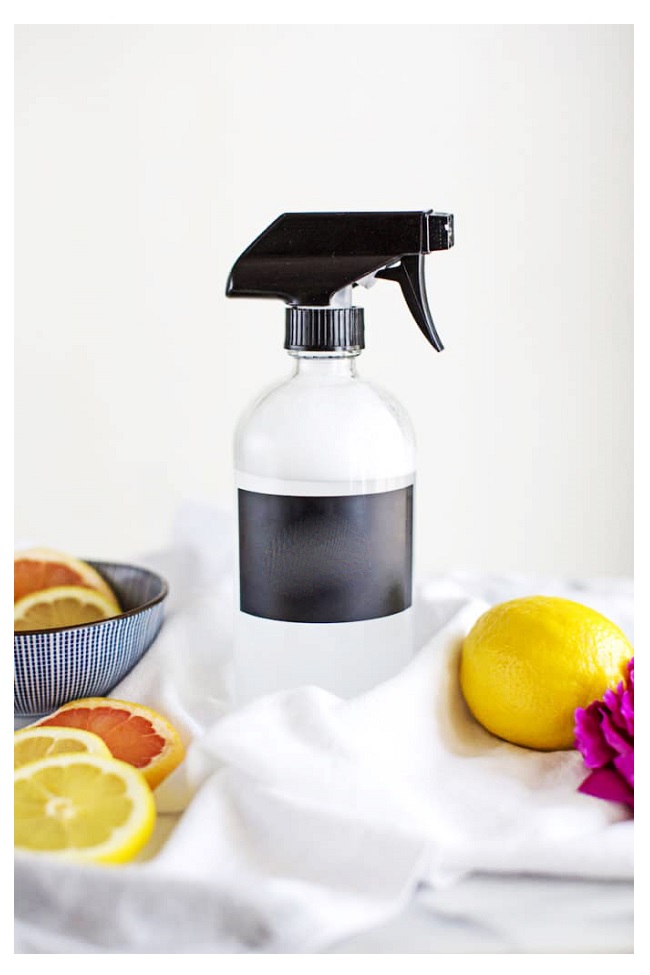 Mix 10 drops of essential oils with 100 ml of water. Use Lavender and Lemon together. When you do a bigger amount of solution like with 200 ml of water then use 20 drops of essential oils. With this, add 10 drops of Lavender and 10 drops of Lemon. Before using, shake the bottle thoroughly.

This window cleaner gives the windows and home a very fresh odour and cleans the class surfaces properly. In addition, it in no way harms your health.

DISINFECTING SPRAY

Mix 50 ml of vinegar with 200 ml of water. Add 10 drops of Lavender, Peppermint and Lemon essential oil to vinegar and water. Before using, shake the bottle thoroughly.

Use this spray in the bathroom, kitchen, toilet and while cleaning stone surfaces. This mixture is strongly disinfecting that can be used to clean ceramic and stone surfaces. A nice and efficient home cleaning agent that helps to get rid of harmful bacteria and dirt.

KITCHEN AND BATHROOM CLEANER

Mix 100 ml of vinegar with 100 ml of water. Add it to Orange, Tea Tree, Thyme and Lemon essential oil. Put 10 drops of each essential oil to the bottle. Before using, shake the bottle thoroughly.

The combination of these essential oils suits perfectly for cleaning surfaces where you use food or where you clean yourself. The combination of essential oils leaves behind a very pleasant aroma and very clean surfaces.

WC CLEANER

To clean the toilet drop directly on it and on the sides of it 10 drops of Tea tree essential oil and 10 drops of Lemon essential oil. Clean the toilet with a brush from the inside and with a cloth from the outside. Both essential oils are efficient dirt removers and make it all very clean.

SHOWER AND BATH CLEANER

Wet the shower and bath. Then shake a fair amount of baking soda on the wet surface. Then put Tea tree, Peppermint and Lemon essential oils on the baking soda. Put 10 drops of each essential oil. Then add a little vinegar to the soda. Vinegar makes the baking soda to bubble, then take a brush/rag and start cleaning the whole shower with that mixture. This removes all the dirt, lime scale, dirty tile joints and stains left behind by detergents. You can rinse the whole surface halfway and then repeat the process with a cleaning mixture.

CLEANING THE KETTLE

Kettle leaves behind limestone, which is not a very good thing to drink. It's reasonable to clean the kettle from time to time. Fill the kettle with water, add 50 ml of vinegar, 5 drops of Lemon or Peppermint essential oil. Let the water heat up and then pour it away. After that, repeat the process with clean water so all the essential oil residue could be removed from the kettle with limestone.

WASHING THE FLOORS

This method can be used for stone flooring and also for solid wood and parquet floors. Put a few drops of Lemon and Lavender essential oils on the mop or directly on the floor and clean the floors with it. Both essential oils are used to restore the wood, therefore from time to time, they can be used for wood surfaces, but in small amounts. After that, the floor is evidently clean and the room filled with a good aroma.

REFRESHER FOR CLOTHES IN THE DRYER

You can add all these essential oils directly on the clothes in the dryer, except Orange essential oil, that stains because it has orange-yellowish hue. The rest of these 6 oils won't stain. When you have put the clothes in the dryer, then put up to 10 drops of oil on the clothes. Essential oils help to clean the clothes, being especially helpful for those who have dust allergies.

You can add essential oils also when you refresh soft animals, bed linen and pillows with the steam feature in your dryer. When you use the steam feature, put, for example, teddy bears and they can be freed from dust and dirt and have a good smell.

Essential oils can be used in many different ways, you can read more about La Tene essential oils from HERE.