17 May

Jojoba oils is a mystical healer many have heard of but which qualities are not probably that well-known. But, who has allowed Jojoba to be part of his life knows very well that this mystical healer has to be in your home. Jojoba is a true miracle worker, one of my healers and helpers. I use it daily and do so for many reasons. I'm giving you information about the qualities of mystical Jojoba and I believe you'll find yourself a companion you can't give up anymore – it works wonders!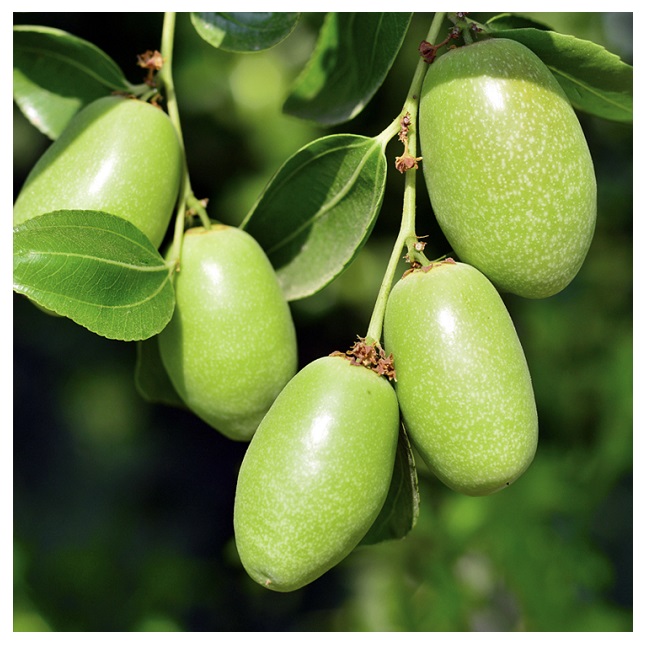 What Jojoba oil really is and where it comes from? When you'll start using something for healing purposes, then you should know exactly what you're dealing with. This way you'll understand more about its effects and can enjoy its power.

Jojoba actually pronounced ho-ho-ba, it's a plant that grows in the Sonoran desert Mexico Arizona and in South-California. Jojoba Latin name is Simmondsia Chinensis.

Jojoba looks like a nut and the nut shaped fruits this tree gives is what Jojoba oil is made from. Actually, it's not really oil, it's simply called this way and these seeds actually have wax in them. Jojoba is golden yellow and almost odourless. What's interesting is that it doesn't stain or leave marks behind. For these qualities, it's really good to use it on the skin, which is my favourite way of self-healing.

Jojoba oil was a sacred oil for Native-Americans which was used to relieve many different illnesses and problems. Today, less attention is paid for plants, but it's changing and people are starting to seek more and more help from plants. Jojoba is a master healer you could have in your home as one of the main alternative medicines. I have it.

Jojoba makes your skin beautiful, smooth, rejuvenate your skin and reduces ageing signs.

When you ask questions from souls protecting you, then they'll bring you answers. For me they brought Jojoba oil, I simply discovered this for myself on one fine day. I wanted to find something that would help me to remove makeup without having to use make-up removal products from the stores which are not that good for your health. As it's my goal to live a life where I value my body and consume products good for it, it's also very important for me to find an answer to this question. And then, on one day, I got the answer that Jojoba is what helps me to replace my current face cleanser for a completely natural one – Jojoba oil.

One day I saw a vision where I took a liquid matter from a nut and applied it to my face. When I did that, it also took away the negative energy on my face. I couldn't guess immediately what I was being shown, sometime later when I went to buy Tea Tree oil, Jojoba was right beside it. Then I remembered the vision and I understood that Jojoba oil was the one I was shown. Of course, I took it with me and did exactly what my vision showed me. What was the result? My make up came off like a miracle, my skin was glowing and was so clean as I would have had many healing treatments with it. I'm telling you honestly, I couldn't picture my life without it anymore. Jojoba won't ruin your skin, it heals it and it has mystical qualities – there are simply so many.

In addition to removing my make up with it, instead of different creams, I use Jojoba oil. I'm probably one of the few women who won't buy many different creams from a makeup store to take care of my skin, I'm quite simple when it comes to things like that. But, I don't need these creams when I have Jojoba oil. It's not the only healer in my home, there is also Olive oil, Tea Tree oil, Avocado oil and many more, but Jojoba is one of my every day healers.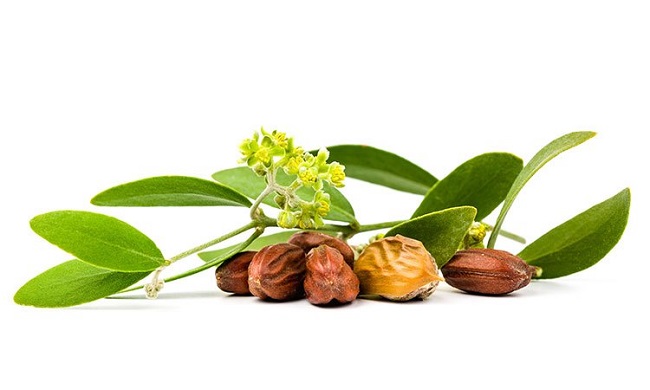 Jojoba oil hydrates the skin, helping it to look beautiful and protect from ageing.

Jojoba is very rich with one of its healing components being vitamin E that fights with free radicals that, in turn, make the skin age and give good ground for skin tumours. Jojoba keeps your skin alive, bright and healthy. I'm urging you to take care of your skin like it wants to be taken care of. You're part of nature, this means your body needs nature. This is also one of the reasons why I stand away from different cosmetic products because they contain so little of what my body actually wants.

Using Jojoba regularly can make you visibly more beautiful and younger. Jojoba can heal scars and make them less visible. The same effect has Avocado oil, Pink Geranium and Sage essential oil.

Jojoba oil makes your skin soft, it's a completely natural moisturiser. At the same time, it also suits oily skin and it actually won't cause acne. When usually quite a few oils could cause acne, then with Jojoba it's different as it won't clog the pores. This heals acne on different skin types and prevents it from spreading. Oily skin is very sensitive to different oils, creams and skin care products, Jojoba oil can be used risk-free, not being afraid it could cause skin irritation and acne.

People who deal with back acne should use Jojoba oil on their face. Use it daily and you'll see how miracles will start to happen with your skin. With acne, I recommend using Jojoba oil with Tea Tree oil. First, cleanse Acne-prone parts with Tea Tree oil and then massage Jojoba oil to the skin. This way you'll give a 100% counterstrike to acne!

I recommend using Jojoba oil on the skin before going to bed so the mystical healer could work wonders on your skin during the night. When you want, you can wipe the excess oil from your skin in the morning.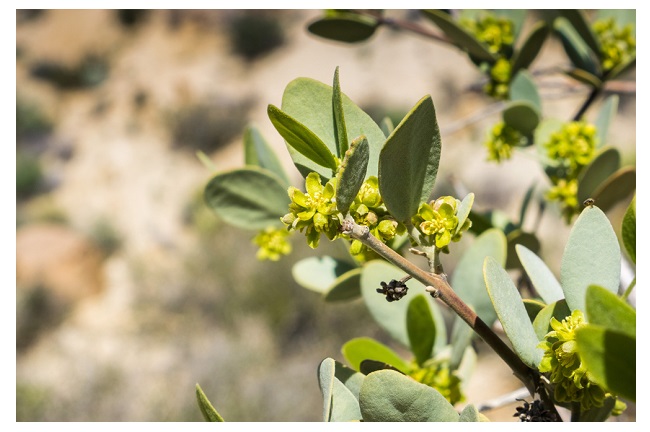 Jojoba oil not only cleanses your skin from dirt, but it also has antibacterial qualities. It removes bad bacteria and heals your skin when you have a skin condition. When people come to me with psoriasis, eczema, acne or ulcers, then Jojoba oil will be the solution. Simple, but effective! Sometimes I wonder over people's reactions, how many of them can't understand how you can get healthy so easily. I often meet people who presume that there should be an extremely complicated solution for a problem – this is usually not the case. When you have one of these skin conditions, then it's reasonable to use Jojoba oil as a carrier oil. When you try to fight against skin diseases with essential oils, then mix healing essential oils with Jojoba and apply that to the skin. Best skin healer is Carrot essential oil, which is not used in aromatherapy for its intense smell. But, it's the number one solution for skin problems.

Jojoba gives necessary vitamins to the skin that help it look younger. It's anti ageing, therefore fight against wrinkles mainly with Jojoba oil. It won't remove wrinkles you already have, but it stops them from getting more intense, and when you have none then it helps to push them far away to the future.

Collagen is what helps our skin look beautiful, bright, radiant and youthful. Collagene is essential for the skin and it gives us the chance to prevent premature ageing. Jojoba oil has valuable antioxidants that contribute to collagen formation, therefore it's also a wonderful youth elixir.

When you're in trouble with cracked or coarse heels, then, again, the answer is Jojoba oil. Apply Jojoba oil to your feet and see what happens. I keep saying that I'm the best test subject and through my experiments, you'll learn more about these plants.

Jojoba oil is so versatile that I recommend experimenting with it. For example, it's perfect to try lips. Jojoba oil hydrates and heals cracked lips and, after a few days of using, makes them look beautiful again.

Who has trouble with dry or bristle skin around nails, then this is your answer – Jojoba oil!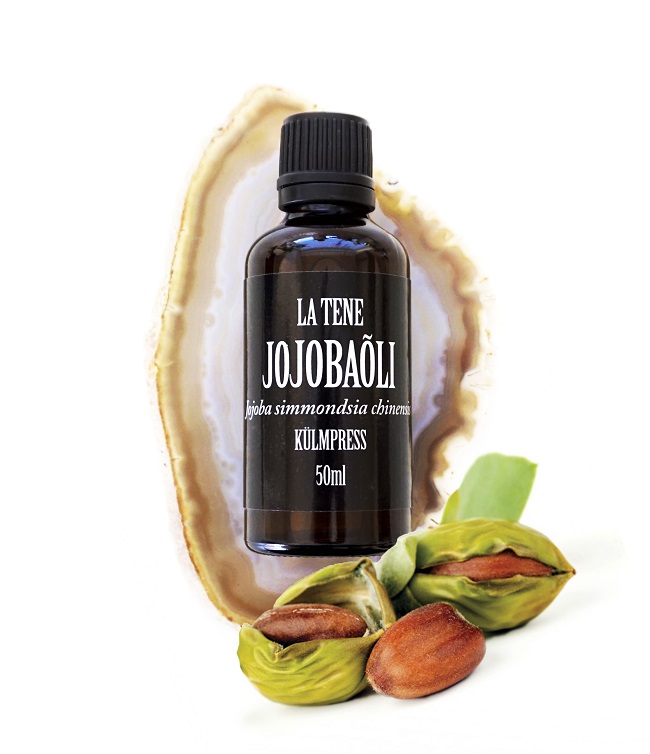 I also recommend men to use Jojoba oil for taking care of their skin and specifically after shaving. Jojoba makes the skin soft where it was hurt during shaving. When your skin has been irritated, then Jojoba heals it quickly and takes away the visible irritation. At first, when you apply Jojoba, you can feel how the skin gets redder, but after a few hours, things will turn around. And one more thing, dear men- Jojoba oils helps to stop going bald. From time to time use Jojoba oil for the scalp when you're hair is falling out, Jojoba makes the hair grow.

When you want beautiful hair then, use Jojoba oil for massaging your scalp. Jojoba nurtures the hair and helps to restore dry and damaged hair. Besides that, Jojoba oil helps to get rid of dirt on the scalp, removes dandruff and restores heat damaged hair (blow drying, straightening, etc).

Wonderful protection from sunburn

Use Jojoba oil in the summer or when you go on a vacation to an exotic place to protect your skin from the sun. Of course, it won't protect you for the whole day, but it does keep you safe from a serious sunburn. Besides Aloe, Jojoba is the number two sunburn healer. I actually recommend using it daily when you know you have to spend time in the sun. This keeps the skin hydrated and won't let the sun have a negative effect on you. I believe it's one of my favourite ways to prevent skin cancer and it's also the reason I recommend this for you. But, I also have to mention that when you go somewhere warm during the winter, you need to be in the Sun moderately as it would otherwise harm your skin a lot. As you're without the sun most of the time and one day you'll get a lot of sun at once – it's not healthy! Show yourself to the sun a little bit at a time and you won't hurt your skin.

Feedback from people I have recommended Jojoba oil has been really good. Feedback from myself has been even better because I haven't witnessed any side effects, I have only benefited from the oil. Jojoba oil suits for all skin types, which makes it into even more multifunctional alternative healer for your body. Remember, my recommendations and explanations are only based on my own experiences, visions and sensing these plants. I'm simply a soul who looks this world a little differently and shares her knowledge with you.

To talk a little bit about the magical side of Jojoba oil, then it relaxes your spiritual body. This helps you to feel yourself comfortably, tensions to exit the Aura and make you fall asleep. This is one of the reasons why I recommend using it before going to bed – for you to have a peaceful sleep.

We are really happy that you can find this wonderful oil from La Tene boutiques. Read more about La Tene Jojoba carrier oil from HERE.