08 Jun

The soulmate magic ritual works in two different ways, and this ritual can be done by anyone who wants to do it. The soulmate magic ritual is a love magic, in which you invite love into your life.

If you're single, the soulmate magic can help soulmate to come to your life. The magic that helps you find the right one, make corrections in your fate so you can find each other. Soulmate is the main lover with whom you can meet in this life and whose love is very worthy. Making the soulmate magic as a single person helps to open channels that help you find each other. In addition, magic will begin to function as it will work for those who are already with their soulmates.

If you are together with your soulmate, making this magic is very useful for your relationship. By doing the soulmate magic ritual while you're already with your soulmate, brings love happiness in your relationship, helps you better understand each other, increases passion, makes you closer, helps you get rid of your problems and misunderstandings. A ritual for soulmate will make corrections where they need to be made and make your love stronger and deeper. The ritual helps to learn the lessons from each other and understand what your soulmate must teach you.

If a single person makes a soulmate magic, then first and foremost, this magic will help the soulmates to meet, and after that the magic will continue to work, helping to keep that relationship, to make love stronger and heal.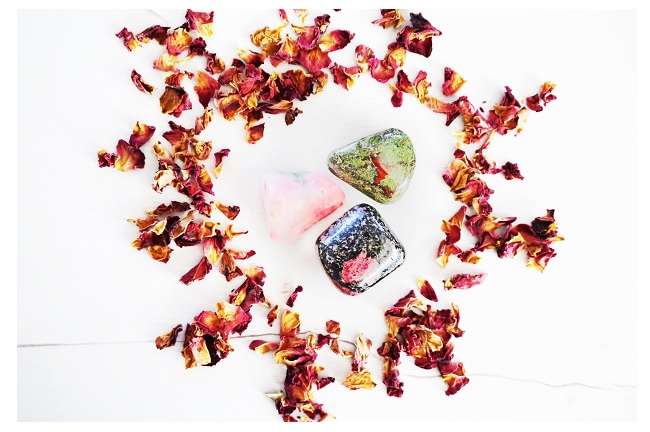 Magical ritual is a spiritual process in which it is possible to create some happiness in our life, to prevent something, to create protection, amplify, achieve something and change energies. In magic your will to do it is very important, using the right items and the right magical words. Magic cannot do harm when it's is associated with crystals. Crystals do not have negative energy if they have not been used before for anything. Making magic with used crystals can trigger a negative energy that they have captured, so always use new and clean energy crystals to make magic. To make sure you use pure crystals, the crystals in my boutiques are very clean. I clean them regularly and I will not allow them to capture the bad energy before they leave from here to help someone else's life.

ITEMS NEEDED IN THE RITUAL FOR A SOULMATE AND HOW THE MAGIC IS DONE:

1. Rose petals (dried)

2. Clinozoisite

3. Dragon Bloodstone

4. Almandine Matrix

5. Red coloured bag

6. Portrait photo

# The crystals needed for magic are all love crystals and they have very strong energy properties that keep the magic alive. In magic, you need only one crystal, one can have a handful of rose petals, you don't need more. The portrait photo could be small or very well folded to fit the bag later. The bag could be so big that magic items would freely fit into the bag. If you're in a relationship with your soulmate, you can add two portrait photos to the ritual bag, one of you and the other of your partner.

# You do not have to observe the Moon phase to make this ritual, that is, you can do this magic exactly when you feel you want to do it. If cosmic forces are involved with love energies or some of the Moon's phase is releasing love energies, then you will be more successful in making the magic. The main thing is that you want to do it and you are motivated during the magic ritual.

Launch the magic!

Take your portrait photo, keep it in your hands, close your eyes and say the spell:

As a single person: "Let the soulmate find a way to me, let me find a way to him!"

In the relationship (while thinking of your companion): "Let love between our soul's flourish!"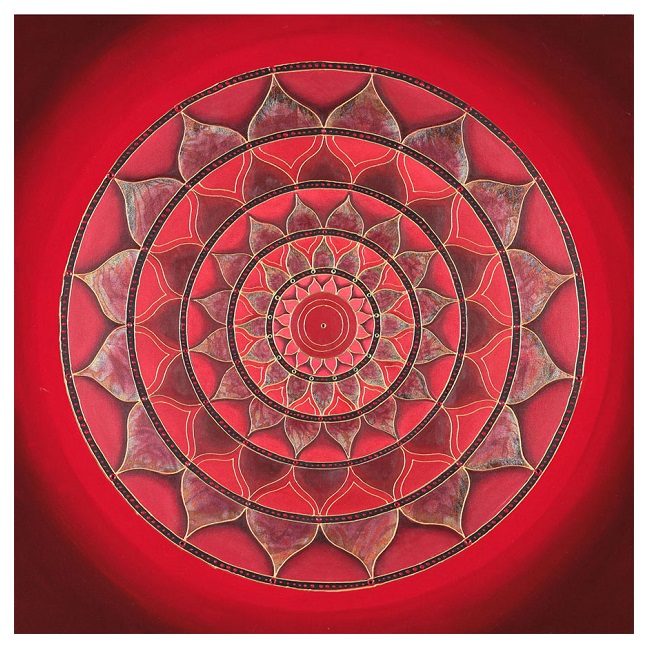 If the magic sentence has been said, open your eyes and place the photo in the red bag. Add all the crystals and rose petals to the bag. The order in which they are placed does not matter, but it is important that while you add the different ritual items to the bag, you say the same spell. Adding crystals and the rose petals in the bag you do not have to close your eyes, just say the spell when you do it.

If all three crystals and rose petals are placed in the ritual bag, close this bag and say the spell for the last time. Once done, take the ritual bag to your bedroom and leave it overnight underneath or next to your pillow. Magic is activated that same night, catching your energy field and storing it in crystals, so that the crystals can get even stronger contact with you to help you through your photo. One night you will sleep next to this magic and the next morning you can put this magic to a suitable place for you. I suggest keeping this magic on the love altar, near other love crystals or in your bedroom. If you have already created a crystal set that have crystals of love and soulmate then you can keep magic among these crystals. There is no need to hide the soulmate ritual and you can change its location.

Magic will not be opened or cleaned. Magic is opened when you feel that you do not want this effect in your life, magic does not end with opening the ritual bag. In order to end the magic, the crystals must be taken to the river, and when they come into contact with the river water, the magic will automatically end its work. Up until the ritual bag is closed or the items in the magic are together, the magic is working.

This is a love magic ritual that works every day to make you happier. The purpose of soulmate magic is to bring soulmate into your life, and if he is not yet in your life, then it gives you happiness in love. The purpose of soulmate magic is to fulfil the goals in this world with the soulmate given by fate and to be able to enjoy the love of one another.

The dried roses bring love happiness, help to attach the spell to the crystals and let the magic work. Clinozoisite activates the relationship happiness, improves connection between two people, brings new love and strengthens the already existing relationship. Dragon Bloodstone helps to stabilize the relationship by healing the existing relationship and bringing the soulmate to your life, helping to keep away from false relationship choices. Dragon Bloodstone with Almandine Matrix are working hard to ensure that while being single you do not let the wrong person come to your life, helping only the soulmate to come. Almandine Matrix helps to create a passion between soulmates, making the relationship very romantic and strong. The red bag symbolizes love and portrait photo helps to keep the magic working from the distance.

Magic gives you the opportunity to meet your soulmate or to improve your relationship. You just have to believe in love and do the magic, same time wishing its fulfilment in your heart so that it can be fulfilled at all.

Have a wonderful time doing the magic!